Sherborne Vale Dog Training Club: News Bulletin for August 2021.
Remember this weather, back in April? When we still couldn't go inside each other's houses? Becky and Jane toughed it out, sitting in Becky's front garden, to plan for the beginners' agility course. We had sunshine, wind, rain, hailstones….and a cream tea! Now our lovely beginners have completed their course, and all have stayed on with us to continue training. They have all made exceptional progress and shown real dedication. Back in May we held a fundraiser evening for our charity, Veterans with Dogs, which all the agility groups took part in (apologies for my poor transfer of images below!) Since then we have been troubled by inclement weather which has hampered continuity of training – oh for a covered training area. Our next agility event was on Monday 9th August and was a fun competition. There were separate classes for experienced and beginner handlers, and two courses: agility and steeplechase. More to come in the next bulletin.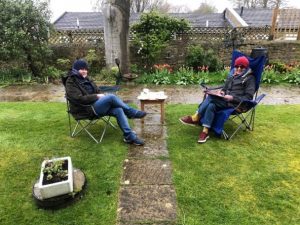 Autumn's first rosette! It hardly seems two years plus ago that we met this tiny puppy at a club dinner, but here she is, having come 6th in a SWAT class (over 40 dogs). Well done Autumn, you are clearly going to be an agility star and make Fiona very proud of you!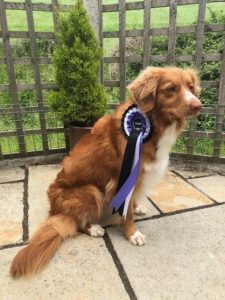 Charity Challenge for Veterans with Dogs, 17th May 2021. Reading left to right: Des and Kelta; Becky and Lily; Ruth and Chilli; Alison and Boodle; Kevin and Early; Katie and Sisu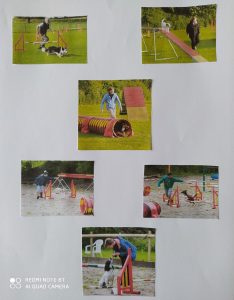 Obedience News: Here are some of our proud achievers in the Kennel Club Good Citizen Awards: This is Diva, handled by Delerie, with her Silver rosette; Boodle and Pixie, handled by Alison, with their Silver rosettes; Flynn, handled by Lisa, with his Gold rosette; Last but not least, the lovely Levi with his Gold award.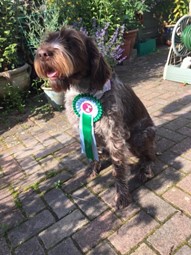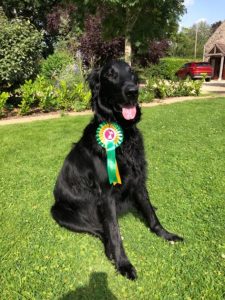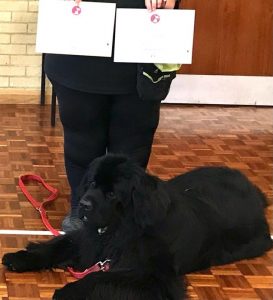 Well done everyone, and huge thanks to the obedience trainers who work so hard each week to help club members achieve success with their dogs.
Rally:
We have just completed an introductory 6 week course at Milborne Port. The current group plus a few more will continue from 9th September, with hopefully a new introductory course starting 6 weeks after that. We are hoping to get involved in the Rally On-Line competitions, which are filmed in the comfort of your own hall and then submitted for judging. The next competition will be in December.
Show news:
The pandemic has made life very difficult for small clubs such as ours, and so we have not run any shows for the last two years. We would simply have been out of pocket. However, as activities are getting underway again this year, we have taken the plunge and booked venues for 2022. Put them in your diary:
Sunday 24th April: Open Obedience Show at Sherborne Football Club
Sunday 19th June: Open Obedience Show at Sherborne Football Club
Saturday and Sunday 23rd & 24th July at Turnpike Motcombe Showground: Open Agility (KC), Independent Agility, Hoopers and Rally. Camping available.
Awards:
As our classes are all running now, and folk are competing, we will be able to present our awards once again. If you are still hanging on to an award from 2019, then Jane will be in touch soon to retrieve it and get them all ready for the engravers later in the year. The Red House in Yeovil is now back in business, and we very much hope to book the function room for our annual dinner and awards ceremony in January. So – all you peeps who are competing, log your achievements so that the committee can gather it all together to work out the competition awards. Other awards are decided by the committee and trainers together.
Social Events:
We really miss these! It has just not been possible to plan anything for so long; however, we are hopeful of holding a social event at The Red House in October. This will probably be a talk and a short quiz, with prizes, and of course, food! More news soon, plus we have plans to make the club AGM more enticing!
Thank you all for your support, as always.